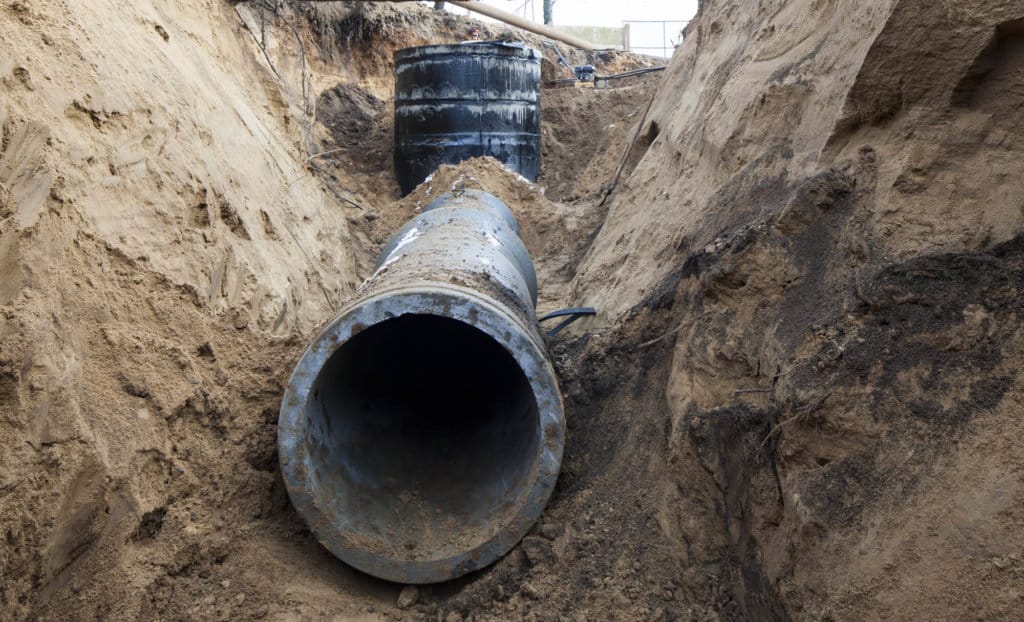 Sewer Repair Santa Fe: Do you think you may have problems with your sewer line? Anytime Plumbing provides sewer repair and replacement services in Santa Fe, Los Alamos, White Rock, and Albuquerque NM.
As a homeowner or commercial property owner, if you see signs that your sewer line needs repair, call us today!  We will send an expert technician to your property to investigate the problem.  As a result of our inspection, we will provide you with the appropriate recommendations.
At Anytime Plumbing, we provide our valued clients with fast, affordable, and professional service for all your sewer line repair and replacement needs. We are the sewer repair company to use for high quality workmanship.  Due to our reputation, you can trust Anytime for your sewer repair services today!
Types of Sewer Line Problems
First of all, if your property is in an area that is 20 years or older, the sewer line may have some issues due to the age and type of pipe installed. Also, tree roots, foreign objects, grease, sags in the line, fatigue failure, structural damage, and damage done during repair or installation are the usual causes for sewer line problems.
Clogged Sewer Lines
Probably one of the most common tell-tale signs of a problem is water backing up into your floor drain. This is a strong indication that the main sewer line or other drain lines are clogged. Maybe the suction on your drains is weak, gurgling, or experiences starts and stops while draining. These are all signs that you may have a clogged line. Properly functioning pipes create a sound of air rushing down the pipes and a strong suction at the drain.
Sewer Line Leaks
Because roots will find their way to the water source, this is a good way to find if your pipe is leaking. Therefore, ook for well developed trees, large shrubs and other vegetation that may be indicating a sewer line leak. Also, the roots may be causing a blockage in the pipe.
Sewer Line Needs Cleaning
Another common problem is sewer lines that haven't been cleaned in ages and need a thorough scrubbing by snaking or high pressure jetting. Old cast iron pipes that have a clean out cap that is rusted or corroded is a sign that the pipe has never been cleaned. Consequently, a new cap or a plastic cap on the line is a good indicator that the line has been cleaned at some point.
Broken Lines
Most noteworthy, if an inspection reveals a collapsed, broken, deteriorated or brittle line, the sewer line or a portion of it will probably need to be replaced. Because this is a major project it is the most costly solution.
Most of all, don't worry because there is a solution for any problem you are experiencing with your sewer line!  Every problem has a remedy.  Listed below is more information about sewer scope inspections, high pressure water jetting, snaking or cabling, and sewer line replacement.  Almost always, these are the type of sewer service you will require, depending on the cause of the problem.
Sewer Scope Inspection
Sewer scope inspections allow you and the licensed plumber ot get a real-time view of the sewer line. Therefore, the best way to know the true condition of the sewer line is to have a video inspection done. In addition, as the camera goes through the pipe, it records the entire process on a DVD.
High Pressure Water Cleaning
Pipes that are in good condition may have  clogs by tree roots, grease, or other debris.   Our plumbers can remove the clog with a high-pressure water cleaning system that will scour the pipe to pristine condition. High pressure jetting can cut through roots and other heavy debris.
Snaking or Cabling
In some cases the sewer line only needs to be "snaked" by running a cable and ramming it through the sewer to free up the pipe and allow water to drain. Less effective, this technique normally does not clean out the debris entirely. Consequently, if roots are causing the problem, then cabling will only temporarily open the line, and the roots will creep back into the pipe again. Since "snaking" the line is less effective,  you may require the plumber being called back every 6-12 months to clean out the line again.
Sewer Line Replacement
Finally, if the pipe is broken, brittle, collapsed, corroded and rusted, or laying uneven, as a result, the the affected portion of the sewer line will need to be replaced or an entire new sewer line will need to be installed.
Our sewer line repair and replacement experts in the Santa Fe, Los Alamos, White Rock, and Albuquerque New Mexico areas offer complete services to handle all of your commercial and residential plumbing needs. Anytimeplumbing505.com has plumbers "on call" 24/7. If you need a local sewer repair and installation expert, call us today or submit a request online and we will send a courteous, experienced, and professional plumber to your home or business. We specialize in all aspects of sewer pipe repair and replacement.
6 Different Reasons You Should Hire Us