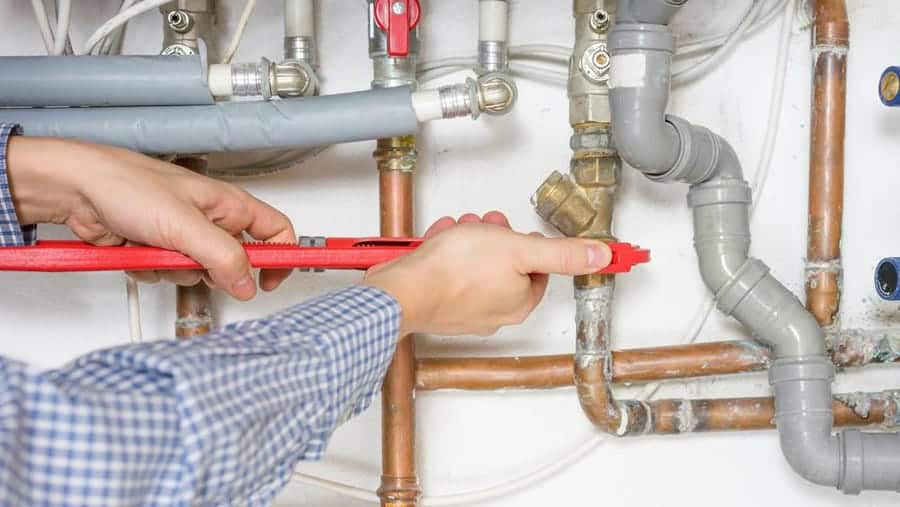 We get it—life in Santa Fe can be pretty busy. With our cultural events, outdoor activities, and vibrant arts scene, who has the time to think about plumbing maintenance? But here's the thing: Just like your car needs regular tune-ups, your plumbing system also needs some TLC to keep it running smoothly.
At Anytime Plumbing, Sewer, Drain & Heating, we're committed to helping you stay ahead of potential plumbing problems. Our preventive maintenance services are designed to keep your plumbing system in tip-top shape, saving you from stressful disruptions and costly repairs down the line.
Our Comprehensive Plumbing Maintenance Services
Our preventive maintenance services go far beyond just fixing leaky faucets and unclogging drains. Here's what you can expect when you choose us for your plumbing maintenance:
In-Depth Routine Inspections
We don't just skim the surface, we delve deep. Our thorough routine inspections cover your entire plumbing system. Our seasoned plumbers, armed with years of experience and an eye for detail, can spot potential problems and nip them in the bud, saving you from costly repairs down the line.
Professional Drain Cleaning
Over time, drains can become a magnet for all sorts of unwanted materials like grease, hair, and debris, leading to blockages that disrupt your daily routine. Our regular drain cleaning services ensure your pipes stay clear and efficient, mitigating the risk of stubborn clogs.
Water Heater Upkeep
The longevity of your water heater hinges heavily on regular maintenance. From inspecting the tank and pressure relief valve to draining sediment and conducting necessary repairs, we leave no stone unturned to ensure your water heater is up and running smoothly.
Advanced Leak Detection
Leaks, big or small, are a recipe for substantial water damage if left unchecked. Our team harnesses the power of cutting-edge leak detection techniques to locate and rectify any leaks, helping to prevent more serious issues that could impact your home's structural integrity.
Comprehensive Pipe Inspections and Maintenance
Corroded, leaky, or damaged pipes can spell disaster for your home. That's why we conduct detailed inspections of your pipes, checking for signs of wear and tear. Any required maintenance or repairs are carried out promptly, ensuring a seamless and efficient plumbing system.
Ready to Embrace Proactive Plumbing Care?
We understand how disconcerting unexpected plumbing issues can be, disrupting your daily routine and leaving you with costly repairs. But what if you could prevent these issues before they even occur? With Anytime Plumbing, Sewer, Drain & Heating at your service, you can. Embrace our proactive plumbing maintenance and trade plumbing worries for tranquility. Our commitment to diligence, our expertise, and our customer-first approach makes us the best choice for safeguarding your plumbing system. Don't let potential problems loom in the shadows. Reach out to us today, and let's work together to keep your home running smoothly because your peace of mind is our priority.
Why Choose Anytime Plumbing, Sewer, Drain & Heating for Your Plumbing Maintenance Needs?
At Anytime Plumbing, Sewer, Drain & Heating, we understand the critical role that a well-functioning plumbing system plays in your daily life. Our goal is to save you from the stress and cost of unexpected plumbing issues. Here's why homeowners in Santa Fe trust us with their plumbing maintenance needs:
Unmatched Expertise: With years of experience, our team of professionals knows how to keep your plumbing system in top shape. We identify and fix potential problems before they escalate.
Tailored Maintenance Plans: We understand that every home and plumbing system is unique. That's why we offer maintenance plans tailored to your specific needs, ensuring we give your plumbing the care it requires.
Quality Service, Uncompromising Standards: We adhere to high standards of quality and professionalism in all our services. From the moment you get in touch with us, you can expect friendly, reliable service and top-notch maintenance work that ensures your plumbing system's longevity.
Transparent Pricing: We believe in clear, honest pricing without any hidden costs. You'll know exactly what you're paying for, providing you with peace of mind and guaranteeing value for your money.
6 Different Reasons You Should Hire Us
Frequently Asked Questions
You Have Questions,
We Have Answers
If you have any plumbing questions, we're here to help—after all, we've been there.
Frequently Asked Questions
You Have Questions,
We Have Answers
If you have any plumbing questions, we're here to help—after all, we've been there.
Regular maintenance schedules can vary based on the age and condition of your plumbing system. However, as a general rule, we recommend a professional plumbing inspection at least once a year.
While it's possible to address issues as they arise, preventive maintenance can save you time, money, and stress in the long run by catching problems early.
Slow drains, low water pressure, water discoloration, or unexplained increases in your water bill can all be signs that your plumbing system needs professional attention. Regular maintenance can help identify and address these issues before they turn into major problems.
Yes, regular maintenance can help extend the lifespan of your appliances by ensuring they're running efficiently and preventing premature wear and tear.
While minor tasks such as cleaning your showerhead or checking for leaks under sinks can be done on your own, we recommend professional maintenance for a thorough examination and care of your system. Our experienced plumbers are equipped with the necessary tools and knowledge to detect and address any hidden issues effectively.