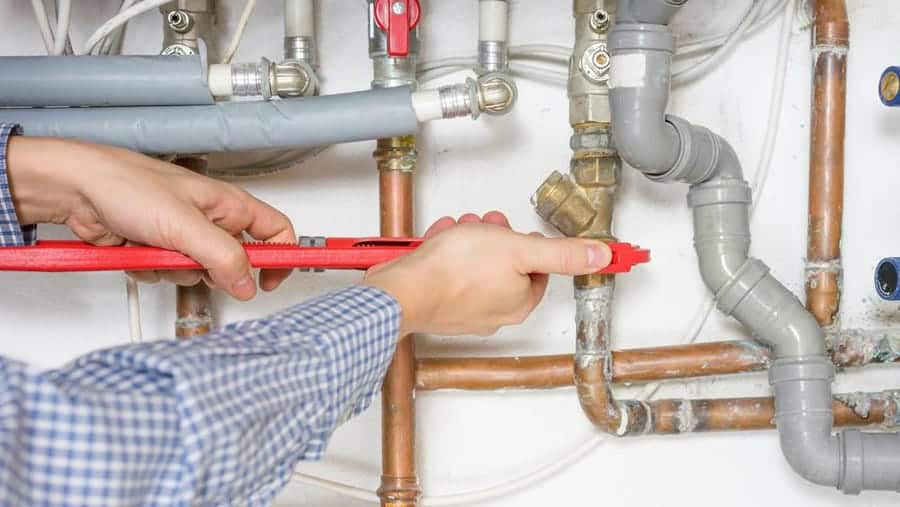 Santa Fe Plumbing Maintenance: Anytime Plumbing specializes in all aspects of Santa Fe plumbing maintenance in Santa Fe, Los Alamos, White Rock, and Albuquerque, NM. Call (505) 474-4441 to learn how we can help you today!
Santa Fe Plumbing Maintenance
The same as any appliance in your home, your car, or bicycle, your plumbing system experiences wear and tear over time. Plumbing systems are designed with durability, but they still require proper and regular care. Preventative maintenance helps stop plumbing from aging faster than it should, and needing repairs and replacements.
Our expert maintenance plumbers can assist your in keeping your plumbing in the best condition possible through regular maintenance. Even if you have the most modern piping, you should schedule a maintenance check-up annually.
Benefits of Plumbing Maintenance
Plumbing maintenance includes much more than just inspecting sewer and drain pipes for leaks or damage. Maintenance also encompasses maintaining major appliances that you use every day, and suffer lots of wear and tear.
For example, water heaters require annual inspections and tune-ups to make certain they are functioning properly. Your water heater will need repairs or replacement a long time before your piping will need attention. Our plumbing maintenance technicians will be able to identify when you need a new water heater installed.
Also, annual plumbing maintenance helps you avoid major problems such as water or sewer line failures. These type of plumbing problems can be expensive and a major disruption in your life. Regular maintenance will help find these problems in the sewer or water lines before they turn into major headaches.
Having your plumbing fixtures evaluated for any damage or wear and tear can prevent leaky faucets, sink and toilet repairs, and bathtub drain problems.
Other plumbing systems such as sump pumps and drainage channel can save your house from flood or water accumulation damage. These should be inspected and maintained regularly.
Most of all, regular plumbing maintenance will help keep you out of an emergency situation and save you money in the long-term!
What Does the Maintenance Program Include?
A licensed and qualified plumbing contractor will check your appliances, drains, faucets, sewer pipes, piping insulation, shut-off valves, sewer lines, sump pumps, toilets, and more. They will looks for signs of corrosion, leaks, blockages, or damage throughout the system.
After your plumbing system has been fully inspected during the maintenance appointment, our plumber will provide you with a list of recommended repairs or service, and tips on how you can keep your plumbing systems working efficiently.
Routine maintenance will enable you and your plumber to develop a relationship so that your home's plumbing can be serviced with care, precision, and speed.
Our plumbing maintenance experts in the Santa Fe, New Mexico area offer complete services to handle all of your commercial and residential plumbing needs. Anytimeplumbing505.com has plumbers "on call" 24/7. If you need a local plumbing maintenance expert, call us today. We will send a courteous, experienced, and professional Santa Fe plumbing maintenance and repair technician to your home or business.
6 Different Reasons You Should Hire Us