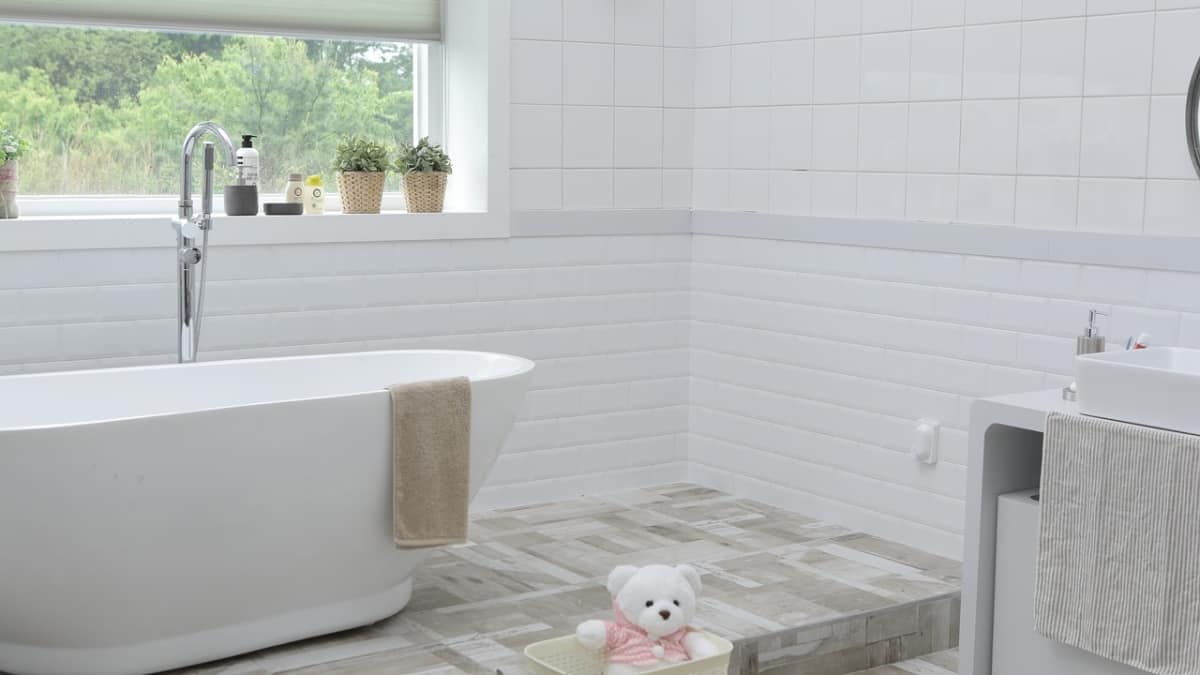 Your bathroom should be a place of comfort and serenity, a sanctuary where you can unwind after a long day. The right bathtub or shower can significantly enhance this experience, which is why it's crucial to trust only experts when it comes to their installation. At Anytime Plumbing, Sewer, Drain & Heating, we provide top-tier Bathtub and Shower Installation in Santa Fe, NM, ensuring that every installation meets the highest standards of quality and durability.
Whether you're updating an existing bathroom or constructing a new one, we are here to provide seamless installation services that align with your vision, style, and budget. From choosing the right fixtures to handling all aspects of installation, our team ensures a hassle-free and efficient process. Experience the perfect blend of design, comfort, and functionality with our Bathtub and Shower Installation services in Santa Fe, NM.
Bathtub and Shower Installation Services in Santa Fe, NM: Where Elegance Meets Quality
Give your bathroom the upgrade it deserves with our top-tier bathtub and shower installation services. At Anytime Plumbing, Sewer, Drain & Heating, we are dedicated to delivering a fusion of beauty and comfort with every installation in Santa Fe, NM.
Superior Bathtub Installation Services
Starting from assisting you in selecting the perfect bathtub that suits your style and needs to the intricate process of installation, we manage everything with acute attention to detail. Our expertise in bathtub installation allows us to anticipate and prevent common challenges such as incorrect fitting, poor sealing, or drainage issues, ensuring a flawless installation.
Quick and Efficient Service: Time is of the essence, and our team is dedicated to providing speedy yet meticulous bathtub installation services. We've honed our skills to carry out installations seamlessly, ensuring minimal disruption to your daily life while delivering top-notch results.
Post-Installation Support: Our commitment doesn't end with the installation. We're here to promptly address any questions or concerns you may have after the installation, ensuring your new bathtub continues to be a source of relaxation and enjoyment.
Exceptional Shower Installation Services
Whether you're considering a standalone shower or a bathtub-shower combo, we've got you covered. Our shower installation services are designed to provide you with a shower that fits seamlessly into your bathroom layout, enhancing its functionality and aesthetic appeal.
Expert Installation Process: With our skilled team, you can expect a flawless installation process. We tackle common issues like inadequate water pressure and poor drainage head-on, ensuring you enjoy your shower without any hiccups.
Efficient and Swift Execution: We know you value your time, so our goal is to execute the installation process swiftly and efficiently. We work diligently to minimize disruptions, allowing you to enjoy your new shower as quickly as possible.
Dedicated Post-Installation Support: Our service extends beyond the installation. Should any issues arise or should you have any queries post-installation, our team is ready to assist, ensuring your shower continues to provide the perfect start or end to your day.
Why Choose a Bathtub and Shower Installation in Santa Fe, NM?
Installing a new bathtub or shower in your home can significantly improve your daily routines, enhancing relaxation, and even increasing your property's value. Here's why you should consider a bathtub or shower installation:
1. Improved Comfort: A new bathtub or shower offers enhanced comfort and relaxation, serving as the perfect place to unwind after a hectic day.
2. Value Addition: An updated bathroom can increase the overall appeal of your home, making it more attractive to potential buyers if you plan to sell.
3. Customization: With a new installation, you get the opportunity to customize your bathroom according to your preferences in style, features, and size.
4. Efficiency: Newer models are more water-efficient and can help reduce your water usage, leading to lower utility bills.
5. Fewer Repairs: A new bathtub or shower installation means fewer maintenance issues compared to older units that often require regular repairs.
Remember, for top-quality Bathtub and Shower Installation in Santa Fe, NM, Anytime Plumbing, Sewer, Drain & Heating is your trusted partner.
Why Trust Anytime Plumbing for Your Bathtub and Shower Installation in Santa Fe, NM?
Imagine stepping into a luxuriously warm shower on a chilly morning, or unwinding in a deep soaking tub after a long day. Picture a beautifully designed bathroom that isn't just functional, but also a haven of comfort and relaxation. Sounds enticing, doesn't it? But to bring this vision to life, you need a professional touch—someone who doesn't just install a bathtub or shower, but transforms your bathroom into a personalized retreat.
That's where Anytime Plumbing comes in. As your trusted partner in Santa Fe, NM, we offer top-notch bathtub and shower installation services designed to enhance your bathing experience while adding significant value to your home. But it's not just about superior installations; it's about understanding your unique needs, respecting your vision, and delivering results that surpass expectations.
Whether you desire a modern, eco-friendly shower setup or a vintage-inspired clawfoot tub, we have the skills and knowledge to execute every project with absolute precision. We believe in crafting a perfect blend of form and function that fits your lifestyle seamlessly.
Boosting Your Bathing Experience
The right bathtub or shower can transform your daily routines into luxurious, spa-like experiences. We understand the nuanced differences between various models, helping you choose a setup that fits your preferences perfectly. From rainfall showerheads for a soothing experience to deep soaking tubs for therapeutic relaxation, we install the ideal fixtures that elevate your comfort level.
Expertise in Varied Installations
Our seasoned team has extensive knowledge in installing a wide range of bathtubs and showers. From freestanding tubs, and whirlpool tubs, to walk-in showers and bathtub-shower combos, we know how to seamlessly integrate these fixtures into your bathroom, enhancing its aesthetics and functionality.
Energy-Efficient Solutions
Saving water and energy is more important than ever. We prioritize installations that align with eco-friendly practices. Be it installing water-saving showerheads or energy-efficient bathtubs, our services are geared towards reducing your environmental footprint while saving you money on utility bills.
Customized and Creative Installations
Every bathroom space is unique, and we believe in honoring that uniqueness. We collaborate with you, understanding your vision, and providing tailored solutions that bring your dream bathroom to life. Our creative and innovative approach to bathtub and shower installations sets us apart from the competition.
Ready to Transform Your Bathroom with a New Bathtub or Shower Installation in Santa Fe, NM?
Installing a new bathtub or shower isn't just about enhancing the look of your bathroom—it's also a strategic move to improve your home's functionality and your daily routine. A professionally installed bathtub or shower can convert your simple bathroom into a personal spa while ensuring efficient water use and leak prevention. However, a flawed installation can spell trouble, leading to leaks, water damage, and expensive corrective repairs.
By choosing Anytime Plumbing, Sewer, Drain & Heating for your bathtub and shower installation in Santa Fe, NM, you're not just picking a service—you're opting for the peace of mind. Our expert team pledges a smooth, hassle-free installation process with minimal disruption to your daily life. We shoulder the complexities, leaving you free to envision enjoying your upgraded bathroom.
Are you set to elevate your bathroom experience? Let's journey toward your dream bathroom together. Get in touch with us today, and we'll bring your vision to life.
6 Different Reasons You Should Hire Us
Frequently Asked Questions
Plumbing Questions?
Consider Them Answered!
Got a plumbing question that's causing confusion? Fear not! We've navigated every plumbing problem imaginable, and we're ready to enlighten you with our knowledge.
Frequently Asked Questions
Plumbing Questions?
Consider Them Answered!
Got a plumbing question that's causing confusion? Fear not! We've navigated every plumbing problem imaginable, and we're ready to enlighten you with our knowledge.
We can install a variety of bathtub and shower types, including freestanding, alcove, drop-in, clawfoot, and walk-in tubs, as well as standard showers, multi-head showers, and walk-in showers.
You have the option to purchase your own unit if you have a specific model in mind. However, we can also help you select the perfect bathtub or shower that suits your style, needs, and budget.
The duration of the installation can vary based on the complexity of the project. However, most installations can be completed within a day. Our team will provide a more accurate timeline once they assess your specific situation.
Yes, our service includes the removal and disposal of your old bathtub or shower. We make sure the process is as hassle-free as possible for you.
Absolutely! At Anytime Plumbing, Sewer, Drain & Heating, we stand by the quality of our work. We offer warranties on our installations and will provide specifics at the time of service.
Yes, we understand that plumbing issues or the need for installations can arise at any time. That's why we offer services around the clock, 24/7, to cater to your needs when you need us the most.
Absolutely! We provide free, no-obligation estimates for all our services, including bathtub and shower installations. Contact us today to schedule your consultation.
We have experience working with a wide range of designs and are more than capable of working with custom designs. We're committed to turning your vision into reality.