In a bustling city like Santa Fe, it's easy to lose count of the plumbers at work. Yet, one name has remained etched in the minds of residents for over two decades - Anytime Plumbing, Sewer, Drain & Heating. More than just a name, we've become a trusted partner, known for our top-notch services and unwavering dedication to our community.
We're your go-to team for professional plumbing services, with our trusty vans zipping across not just Santa Fe, but a whole host of locations in beautiful New Mexico.
Delivering Excellence Right to Your Doorstep
Despite the multitude of options out there, when push comes to shove, residents and business owners alike know who's got their back - it's us! With our network of locations spread across the state, we offer speedy, same-day service, ensuring you're never left in the lurch.
Whether you're cozied up in the heart of Santa Fe, NM, or planted in any of our surrounding service areas, we're just a call away, ready to tackle your plumbing and heating issues with unrivaled expertise and a hearty smile. Check out our service locations and see if your neighborhood makes the list: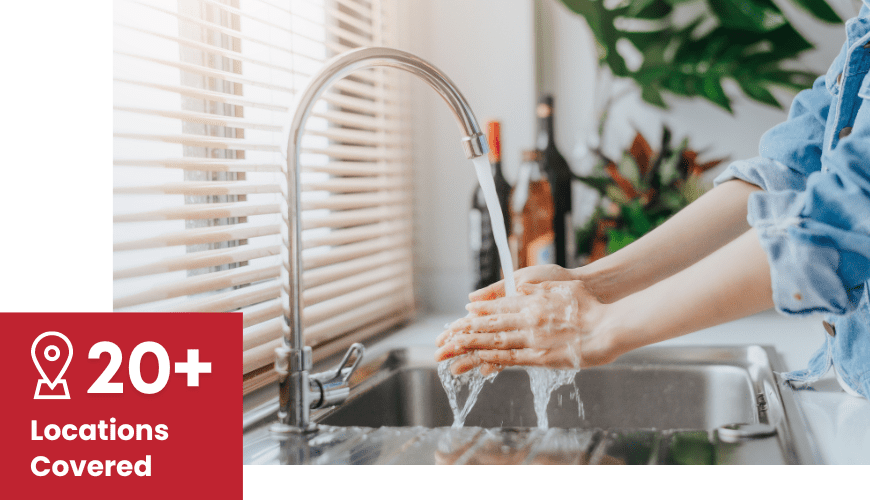 So, the next time your pipes throw a tantrum or your heating unit decides to take an unscheduled break, don't break a sweat. Dial (505) 209-7239 to request a service or get a quote for your next project. At Anytime Plumbing, Sewer, Drain & Heating, we stand by our promise - to be there, anytime you need us, anywhere you are.
We Are Your Local Experts
Do you know what makes us tick? Our bond with Santa Fe! We're not just working here; we're living, breathing, loving this vibrant community. This tight-knit connection, combined with our extensive experience, means we're the perfect fit to handle all your plumbing needs.
Around the Clock, at Your Service
We know that plumbing emergencies aren't considerate of your schedule. They're like unwelcome guests that show up at any hour. That's why we're always on the edge of our seats, ready to jump in and sort things out, day or night. With us, help is always just a phone call away.
Fast and Efficient - That's How We Roll
We know time is of the essence. That's why our squad is all about quick, quality solutions for all your plumbing and air conditioning needs. We're like the plumbing superheroes, swooping in to save your day in record time.
High Ratings, Honest Pricing
Our reputation isn't some overnight success story; it's the result of consistent hard work and the will to deliver nothing but the best. As a top-rated service, we've nailed the balance between providing top-notch services at honest prices. Trust us to get the job done right the first time, with zero hidden costs.
Simply put, Anytime Plumbing, Sewer, Drain & Heating is your reliable, local go-to for all your plumbing needs. We understand that plumbing issues don't make appointments and can throw a wrench in your day. And let's face it - they can be a major headache when left unchecked.
That's why we're all about quick, affordable solutions. Our friendly yet expert plumbers will be at your place in a jiffy, ready to roll up their sleeves and get things back to normal so you can get on with your day.
So whether you're dealing with a minor leak or a major headache, remember - we're not just your plumbers. We're your neighbors, and we're here for you. Anytime.
Frequently Asked Questions
You Have Questions,
We Have Answers
If you have any plumbing questions, we're here to help—after all, we've been there.
Frequently Asked Questions
You Have Questions,
We Have Answers
If you have any plumbing questions, we're here to help—after all, we've been there.
We're always ready to assist! We aim for same-day service whenever possible. However, the exact time may vary depending on the schedule and location.
Absolutely! We understand that plumbing and heating issues don't keep to business hours. That's why we're available 24/7 to help you out in case of any emergencies.
We strive for honest, transparent pricing. The cost can vary depending on the specifics of the job, but we'll provide a detailed quote before we start any work. Rest assured, there won't be any nasty surprises on your bill.
Yes, we do! From homes to businesses, we've got all your plumbing and heating needs covered. Whether it's a minor home repair or a major commercial project, we're ready to step in.
Your safety is our top priority. We strictly adhere to safety guidelines and ensure our workspaces are safe and clean. Plus, we're fully insured for your peace of mind.