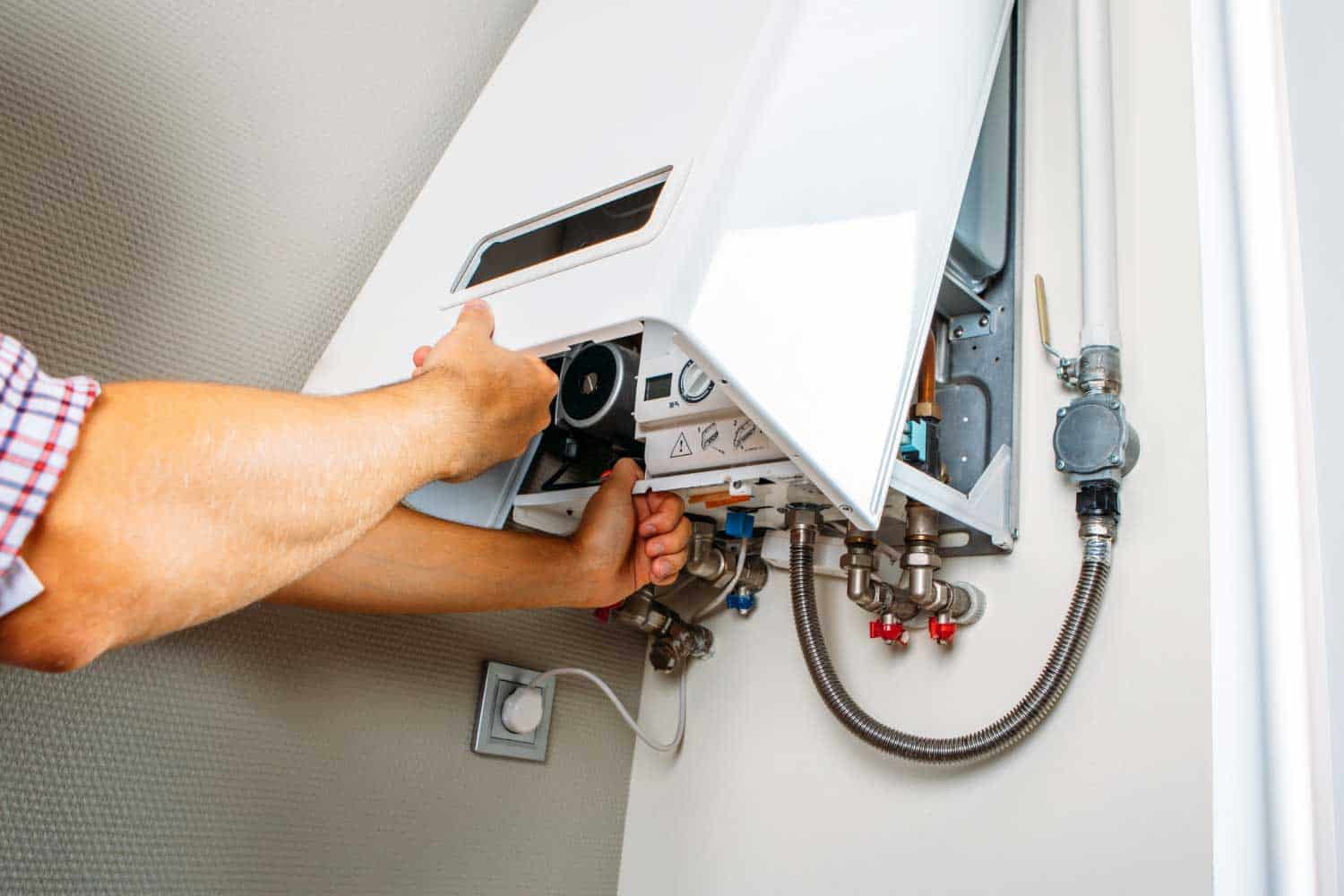 Santa Fe Boiler: Our Santa Fe boiler experts offer long term boiler installation, repair and replacement services. Call (505) 474-4441 to learn how we can help you today! We specialize in all aspects of boiler installation, repair, replacement and maintenance in Santa Fe, Los Alamos, White Rock, and Albuquerque, NM.
Our team of boiler specialists Anytime Plumbing is proud to help residential and commercial customers with any boiler installation, repair, service, and maintenance service they need to ensure their family or business' comfort.
Boilers are very complex heating units. Also, they are one of the most effective, efficient, and dependable of all heating systems available today. Therefore, it would behoove anyone with a boiler to have an understanding of its primary components. In addition, knowing about maintenance procedures, and indications that the boiler may need repairs. Also, it is critical that you have all of your boiler services performed by a skilled, trained professional.
Furthermore, if you ever are in a situation when you need assistance with your Santa Fe boiler, trust Anytime Plumbing. Our boiler techs have extensive experience and training to service all makes and models.
Most of all, regardless of how small or large the boiler problem is, our plumbers can fix your boiler issues with accuracy, high performance, and safety.
Anytime Plumbing has boiler repair experts that can solve an residential or commercial boiler problem. Our commercial clients include hospitals, hotels, industrial, restaurants, retail, and more.
Probably the most common repair issues include leaks in the pipes going into and out of the boiler, heating element issues, rust or corrosion, condensation buildup, and pilot lights going out.
Signs that your boiler needs repair
Whether one has a boiler in a home or business, the owner should educate themselves on the signs that a boiler is not performing efficiently. These include:
Drop in heat of home.
Insufficient hot water running to taps.
Increased water and energy bills.
Noises such as thumps or hissing.
Most of all, the first step you need to take to ensure that your boiler performs successfully is to have your boiler installed by professionals. There are several reasons for having your boiler installation done by a licensed plumber. Rather than taking a chance, this is the only way to make certain your boiler is safe and operates with precision. If not properly installed, boilers can become dangerous, because they utilize a fuel source to heat water. Therefore, the fuel must be used correctly, and water needs to be distributed efficiently to ensure safe operation.
Finally, our licensed boiler plumbers with make sure you have the right size boiler for your home or business. As a result, you will have a boiler that provides the right amount of heating power versus too much or too little. This will prevent high cost of use and reduced performance levels.
Boilers are very durable, nonetheless, they all have a certain lifespan. For this reason, someday you may need a boiler replacement at your home or business. The boiler replacement experts at Anytime Plumbing will make certain you have the right boiler, and that it is installed with precision and care.
You should have a complete inspection and service performed on your boiler every one to two years.
Our maintenance service includes inspecting condensate temperature, gas pressure, oil pressure, and water levels. In addition, we can test the feedwater pressure, boiler operating temperature, and conduct a visual inspection of the piping to looks for signs of rust, or other types of damage.
Causes of Boiler Problems
There are several issues that can occur over years that can damage or decrease a boilers effectiveness. Rapidly heated and cooled water is a factor in developing leaks. These leaks can appear around the boiler or to the running pipes feeding into and out of the boiler.
Another problem that can happen is condensation buildup that freezes around the pipes or causes rust. In addition, a very common problem is the pilot light going out or the heating element not bringing the water up to the right temperature.
Our Santa Fe boiler experts offer complete services to handle all of your commercial and residential boiler needs. Anytimeplumbing505.com has plumbers "on call" 24/7. We specialize in all aspects of boiler repair and installation from Santa Fe, Los Alamos, White Rock, and Albuquerque, NM.
6 Different Reasons You Should Hire Us