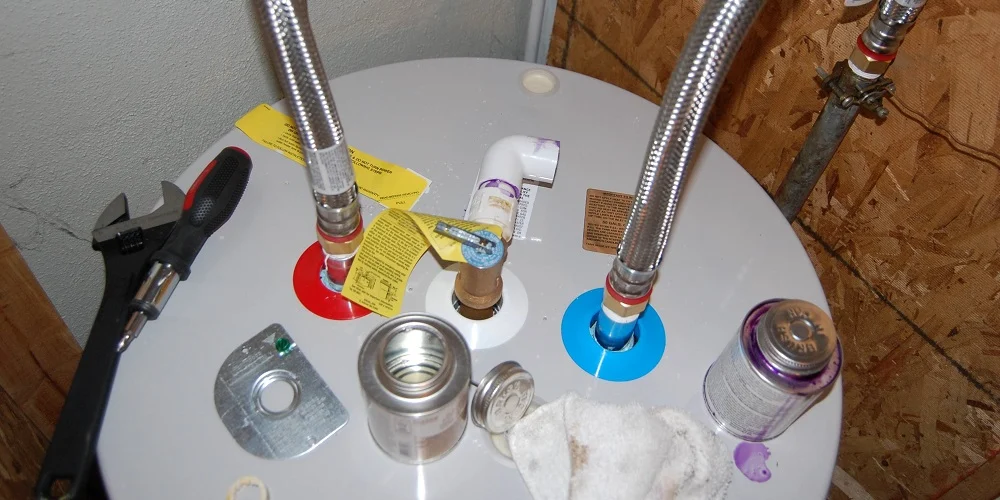 Imagine coming home after a long day, stepping into your shower only to be greeted by a chilly surprise. Or picture trying to scrub off the grease from your dinner dishes with lukewarm water. Unpleasant, isn't it? When your water heater fails, it doesn't just disrupt your routines - it also invades your comfort.
Here's the thing: you shouldn't have to deal with such inconveniences. Not in your own home. You deserve a reliable hot water system that functions smoothly, and a service that ensures it stays that way.
That's where Anytime Plumbing, Sewer, Drain & Heating steps in, turning your distress call into a sigh of relief. Our team of seasoned plumbing professionals is equipped to handle all things related to your water heater - from emergency repairs and regular maintenance to efficient installations of both electric and gas models.
Our commitment? Ensure your hot water system is always up to the mark so that those cozy showers and effortless dishwashing routines never hit a cold snag. With Anytime Plumbing at your service, you're not just choosing a solution; you're choosing peace of mind.
Say goodbye to water heater worries and hello to comfort and convenience with Anytime Plumbing.
Our Comprehensive Water Heater Services You Can Count On
From emergency repair services to new installations, Anytime Plumbing, Sewer, Drain & Heating's range of water heater services are designed to provide consistent, reliable hot water to homes and businesses in Santa Fe, NM. Our experienced plumbers are well-versed in addressing a wide array of water heater problems, ensuring that your hot water flows seamlessly, no matter the challenge.
Tankless Water Heater Installation
Considering an upgrade to a tankless water heater system? These innovative units provide hot water on demand, saving energy and delivering a never-ending supply of hot water. If your current water heater struggles to meet your household's demands, or if you're simply seeking a more energy-efficient solution, a tankless water heater might be just the ticket. Our expert plumbers can assess your needs and carry out a seamless installation, getting you up and running with an efficient, reliable system in no time.
Electric Water Heater Installation
Opting for an electric water heater? Our team can guide you through the selection process, ensuring the unit you choose is the perfect fit for your home or business. Once you've made your selection, we'll handle the installation with meticulous attention to detail, testing everything thoroughly to ensure optimal operation.
Emergency Water Heater Repair
When your water heater fails unexpectedly, it can throw your day into chaos. But don't worry, we're here to help. Our plumbers are ready to provide emergency water heater repair services any time, day or night. We'll quickly diagnose and repair your system, restoring your hot water supply without delay.
Regular Water Heater Maintenance
Regular maintenance can prevent unexpected breakdowns and extend the lifespan of your water heater. Our plumbers can perform routine checks and maintenance, identifying potential issues before they escalate into more serious problems. This proactive service can save you time, hassle, and money in the long run.
Warning Signs Your Water Heater Needs Professional Attention
Here are some signs that your water heater may be in need of professional repair or replacement:
1. Inconsistent Water Temperature: If you're experiencing frequent temperature fluctuations or your water isn't heating at all, it could signal a problem with your water heater's heating element.
2. Discolored or Rusty Water: This could be a sign of rust in your water heater, indicating the tank may be on the verge of springing a leak.
3. Noise: If you hear rumbling, popping, or crackling noises from your water heater, it may be due to sediment buildup in the tank, which can reduce efficiency and lead to more serious problems.
4. Water Around the Heater: If you see water pooling around your water heater, it's likely you have a leak and should call a professional immediately.
5. Age of the Unit: If your water heater is more than 10 years old, it might be nearing the end of its lifespan. Regular inspections by a professional can help determine when it's time for a replacement.
Remember, if you notice any of these signs, don't wait—reach out to our expert team at Anytime Plumbing for a thorough inspection and necessary repairs or replacements. Your comfort is our priority.
Why Should You Choose Anytime Plumbing for Your Water Heater Services?
Understanding the importance of a reliable hot water supply is essential for maintaining a comfortable and functional home or business. When it comes to hot water heater installation, repair, or maintenance, you need a dependable and seasoned team. That's where Anytime Plumbing excels.
We're Your Local Water Heater Experts
At Anytime Plumbing, we're not just based in Santa Fe; we're deeply ingrained in this dynamic community. With our close ties to our neighbors and years of experience, we are uniquely positioned to comprehend and cater to your specific water heater needs. Whether you're seeking hot water heater installation, repair, or regular maintenance, our team is up to the task.
Available Around the Clock for Your Convenience
Water heater problems can emerge at any time, day or night. That's why we're always ready to serve you, 24/7. With our round-the-clock availability, professional assistance for your water heater concerns is always just a phone call away.
Delivering Prompt, Expert Solutions
We appreciate the value of time when addressing water heater issues. Our team is committed to providing swift and dependable water heater services, from emergency water heater repair to installing a water heater. We aim to diagnose and resolve your water heater concerns promptly, reducing disruption to your daily routine.
Highly Rated with Honest Pricing
Our reputation as a top-rated company stems from our unwavering dedication to excellence. We take pride in offering high-quality water heater services, including installing water heaters, at fair and transparent prices. With Anytime Plumbing, you can trust that the job will be done right the first time, with no hidden costs. Your satisfaction and comfort are our top priorities.
Are You Ready to Ensure Uninterrupted Hot Water Supply in Your Home or Business?
Unresolved water heater issues can lead to cold showers, inefficient heating, and higher energy bills. More importantly, they can disrupt your everyday life or your business operations. Isn't it time you took action?
Anytime Plumbing is ready and equipped to provide expert water heater services—from installation to emergency repair. Our team of seasoned professionals is committed to restoring your hot water supply swiftly and efficiently, all at a fair price.
Don't let a faulty water heater put your comfort on the ice. Let us ensure that you have reliable hot water when you need it most. Remember, with Anytime Plumbing, seamless and effective water heater services are always just a call away.
6 Different Reasons You Should Hire Us
Frequently Asked Questions
Stumped by Plumbing Issues?
We've Got the Answers!
Got a plumbing question that's left you stumped? Keep calm! We've grappled with every kind of plumbing situation, and we're ready to share our expertise with you.
Frequently Asked Questions
Stumped by Plumbing Issues?
We've Got the Answers!
Got a plumbing question that's left you stumped? Keep calm! We've grappled with every kind of plumbing situation, and we're ready to share our expertise with you.
We work with all types of water heaters, including tankless, electric, and gas water heaters. No matter the make or model, we have the expertise to handle the installation and repair.
The lifespan of a water heater can vary based on its type and maintenance. On average, a traditional tank-based water heater lasts about 8-12 years, while tankless water heaters can last up to 20 years with proper maintenance.
The exact timeframe can vary based on the specifics of the job. However, most water heater installations can be completed in a few hours.
Common signs include inconsistent water temperature, discolored or foul-smelling water, noises from the unit, leaks around the water heater, and a decrease in the volume of hot water.
We offer 24/7 emergency water heater repair services. Simply call our hotline, and our team will be on its way to providing swift, professional service.
Yes, we can handle the conversion process from a gas to an electric water heater. Our team has the necessary experience and skills to ensure a smooth transition.