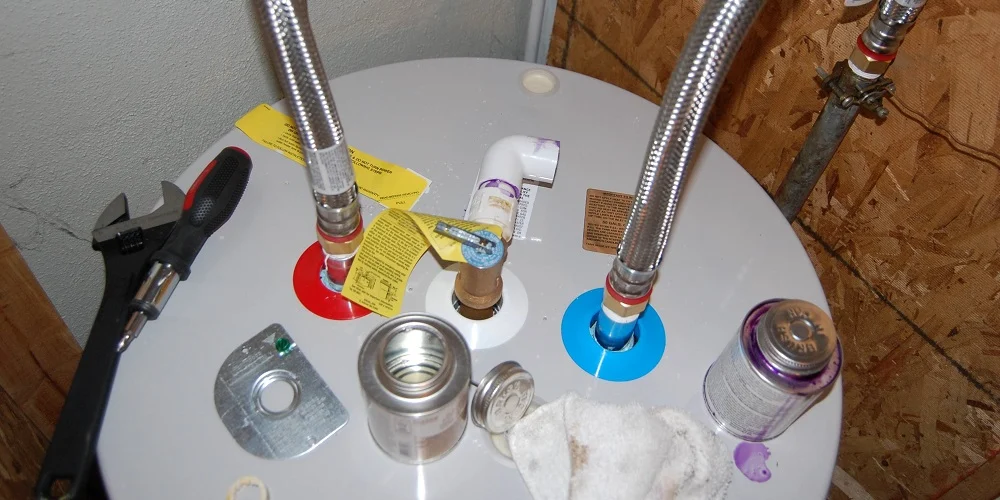 Water Heater Santa Fe: Our water heater Santa Fe experts offer complete commercial and residential water heater services.  We provide water heater repair, installation, replacement, and maintenance in Santa Fe, Los Alamos, White Rock, and Albuquerque NM. Call us today at 505-474-4441.
Water Heater Repair Santa Fe
Our water heater Santa Fe licensed plumber's training and experience allows them to handle any water heater repair with meticulousness and precision. They understand everything about water heaters and can help solve any problems you may have.
A water heater is an essential appliance playing a vital role in a properly functioning home or business. Hot water is needed everyday for bathing or showering, washing dishes and laundry, and more. Because a water heater is often taken for granted, its importance isn't noticed until it stops working properly.
Water Heater Replacement Santa Fe
Because water heaters can experience damage that is beyond repair, a water heater replacement may be necessary. We install all major brands and models including A.O. Smith, Bradford White, State Select, Rheem, Rinnai, Kenmore, American, GE, Whirlpool, and more.
Anytime Plumbing's licensed water heater plumbers install, repair, and service all the leading brands of water heaters. These include A.O. Smith, Bradford White, State Select, Rheem, Rinnai, Kenmore, American, GE, Whirlpool, and more.
Depending on the hot water usage of your home and type of heating system (electricity, gas, oil), there are multiple options to select from. Some types claim to reduce energy costs by up to 50 percent or regular storage models. Yet these types have higher upfront costs meaning the return on investment may take some time.
Storage Tank Water Heater
The most common type of water heater in use. As the name implies, a storage tank is an insulated tank where the water is heated and stored until its needs to be used. The hot water is delivered from a pipe on top of the water heater.
Natural gas water heaters usually use less energy and cost less to operate (by about half) than electric water heaters. However, the initial cost of a gas heater is higher.
Tankless Water Heater
Rather than storing water, water is heated on demand. While they are more energy-efficient, tankless delivers limited flows of hot water per minute, about 3.5 gallons.
They are ideal for homes where multiple appliances for hot water are not being used simultaneously – not running a dishwasher and shower concurrently.
Tankless is ideal in homes that are using natural gas to heat water. Electric tankless heaters may necessitate upgrades in the home's electrical system.
Heat Pump (Hybrid) Water Heater
This system captures heat from the air and transfers it to the water. These units use about 60 percent less energy than standard electric water heaters. While they cost more than electric-only models, installation is similar and ROI time is short.
They do not function well in very cold spaces and need to be in areas that remain at 40 to 90 degrees.  Also, they require up to 7 feet clearance from floor to ceilling, up to 1,000 cubic feet of uncooled space to capture enough heat from the air, and drains nearby to discharge the condensate.
Solar Hot Water Heater
A solar panel cell mounted on a roof collects the suns' heat and delivers it to an antifreeze like fluid in a closed loop system going to the water tank. The top designs produce excellent savings in the summer, and ideal for sunny and warm areas. On cloudy or cold days, savings are diminshed. Back-up systems are included on most models and turn on as needed.
The ROI can take 10 to 30 years because of the initial costs.
Condensing Water Heater
In homes that use gas heating, condensing water heaters are an option. Also, if you need capacity of 55 gallons or more.
Condensing water heaters use a tank like standard water heaters. The difference is they capture exhaust gases which is more energy efficient. These gases are delivered through a coil into the base of the unit, allowing the incoming cold water to absorb much of the heat.
Capacity
Warranty
Anti-scale Devices
Brass vs. Plastic Drain Valves
Glass Lined Tanks
Digital Displays
Causes of Water Heater Problems
Old Water Heaters
Age is one of the primary culprits causing a water heater to malfunction. Over time, frequent use of the water heater causes wear and tear. Water heaters that are over ten years old are more susceptible to problems.
Water Heater Maintenance
Another common problem is not having your water heater Santa Fe serviced and maintained on a regular basis. A small problem that is detected early can prevent major problems from developing, and probably requiring a replacement or emergency call.  Anytime Plumbing offer water heater maintenance service for residential and commercial customers.
Our water heater Santa Fe experts specialize in all aspects of water heater repair, installation, replacement, and maintenance in Santa Fe, Los Alamos, White Rock, and Albuquerque, NM. Anytimeplumbing505.com has plumbers "on call" 24/7. If you need a local water heater repair and installation expert, call us today.  We will send a courteous, experienced, and professional water heater Santa Fe plumber to your home or business.
6 Different Reasons You Should Hire Us