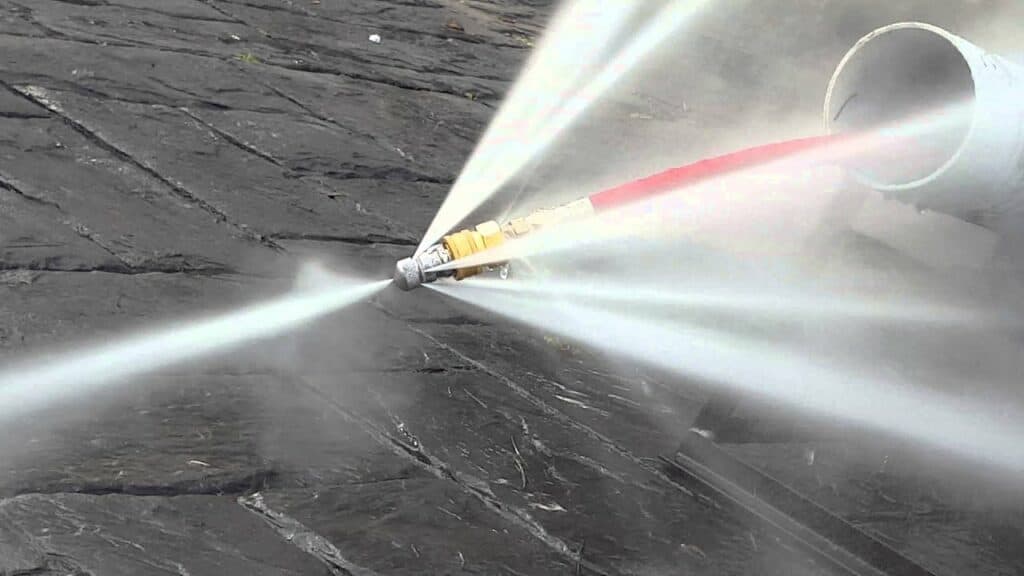 Hydro Jetting is a process in which your sewer pipes are scoured by streams of high-pressure water shooting out of a hose at up to 4,000 psi. These high-pressure streams are strong enough to cut through and clear out any debris in your sewer lines.
How does Hydro Jetting work?
Hydro Jetting is typically done through an opening called a clean out, which is an accessible opening present in every plumbing system and designed to allow plumbers to easily "clean out" debris. A Hydro Jetter consists of a large tank of water, a high-pressure hose, a special high-strength nozzle, and a machine which pressurizes the water in the hose so that it can spray out of the nozzle at a rate of up to 4,000 psi and a flow rate of 18 gpm.
Every plumbing system is designed to carry waste water "downstream" using gravity. The Hydro Jetting nozzle is placed at the "downstream" end of the plumbing system and it works its way "upstream" against gravity. That way, any debris that is cleared out by the Hydro Jetter will flow downstream where the drainage path is already clear. The Hydro Jetters used by Anytime Plumbing LLC, are capable of clearing out sewer lines over a length of several hundred feet.
When would I need Hydro Jetting?
Hydro Jetting is an appropriate solution when clogs cannot be removed through traditional snaking. Hydro Jetting is also required before Pipe Lining because any debris present in the existing pipe may cause the epoxy lining resin to be malformed and/or prevent it from bonding correctly to the existing pipe.
What are the benefits of Hydro Jetting?
Hydro Jetting can easily cut through the most stubborn roots and debris and remove built-up mineral deposits, sediment and other obstructions clogging the inside of your drainage line. Food grease and soap build-up are the most common sources of clogged lines.
Although Hydro Jetting is strong enough to clear out roots from your sewer lines, any amount of root penetration is cause for serious concern. Root penetration pervasive enough to cause repeated backups indicates that the roots have become thick enough to damage the pipe and its protective waterproof inner coating. In those instances, Anytime Plumbing LLC recommends performing a Video Camera Inspection to determine the seriousness of the condition.
Preventive Maintenance Jetting
Hydro Jetting provides an ideal solution in preventing serious plumbing emergencies, which saves a savvy consumer time, frustration and money. Anytime Plumbing LLC recommends preventative maintenance be performed a minimum of 3 to 4 times a year for commercial businesses, and 2 times a year for most residential customers. A 30 day warranty is included with each service.
Our sewer and drain Hydro Jetting experts in the Santa Fe, Los Alamos, White Rock, and Albuquerque New Mexico areas offer complete services to handle all of your commercial and residential plumbing needs. Anytimeplumbing505.com has plumbers "on call" 24/7. If you need a local hydrojetting expert, call us today or submit a request online and we will send a courteous, experienced, and professional plumber to your home or business. We specialize in all aspects of drain and sewer line hydrojetting.
6 Different Reasons You Should Hire Us