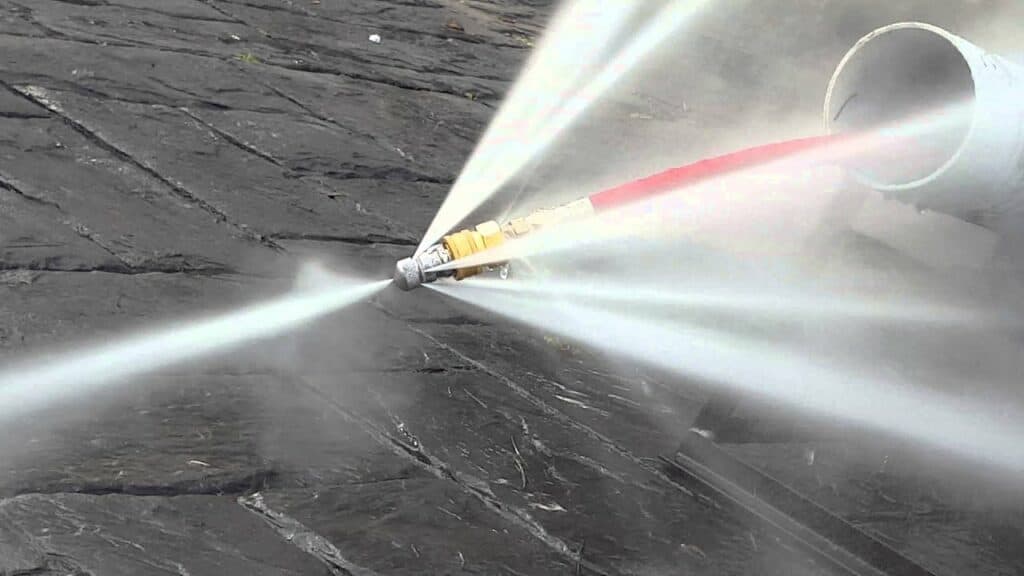 Have you ever dealt with a persistent clog that just won't budge no matter what you do? Maybe you've tried every trick you know, but the drain still runs slow. We understand how frustrating that can be, and we're here to help. At Anytime Plumbing, Sewer, Drain & Heating, we have a special way to handle those tough clogs: Hydro Jetting. This isn't your average plunger or store-bought drain cleaner — it's strong, effective, and it gets the job done.
We are the trusted providers of Hydro Jetting services in Santa Fe, NM, and our focus is on getting rid of those pesky blockages that disrupt your routine. If you're tired of stubborn clogs messing with your day-to-day, it's time to try Hydro Jetting.
So, What's Hydro Jetting?
Hydro Jetting is a method used by professional plumbers to clear blocked or slow sewage lines. It works by blasting water at high pressure into the lines, which usually gets rid of blockages and build-up. It's a really effective way to not just clear clogs, but also clean and keep your pipes in good shape.
So, How Does Hydro Jetting Differ from Regular Drain Cleaning Methods?
Unlike traditional methods that might just punch a hole in the blockage, hydro jetting in Santa Fe NM provides a comprehensive cleaning. From grease to tree roots, hydro-jetting takes care of it all. Plus, it's also a great maintenance routine to keep your pipes in top shape and prevent future clogs.
Thorough Cleaning
Regular methods, like using a plunger or drain snake, simply push the clog around or break it into smaller pieces. While these might restore flow temporarily, they don't provide a thorough cleaning. Hydro Jetting, however, uses high-pressure water to fully obliterate the clog and flush it out of the system. It not only removes the blockage but also cleans the pipe walls, leaving them almost like new.
Long-term Solution
Chemical drain cleaners dissolve clogs but can be harsh on your pipes over time, and physical tools provide a quick fix but not a long-term solution. Hydro Jetting offers a long-lasting solution as it fully clears the pipes, reducing the chances of clogs reforming in the future.
Safety for Your Pipes
Hydro Jetting is safe for your pipes. While chemicals can erode your pipes over time and drain snakes can potentially damage them, Hydro Jetting is a method that cleans effectively while being gentle on your pipes.
Eco-Friendly
Hydrojetting is safe for your pipes and environmentally friendly. It doesn't rely on harsh chemicals; it's simply a high-pressure water solution that scrubs your pipes clean from the inside. This is particularly good news if you're environmentally conscious and looking for a green solution to your plumbing issues.
So, if you're dealing with stubborn or recurring clogs, Hydro Jetting offers an effective, safe, and eco-friendly solution to keep your pipes running smoothly.
Hydro Jetting Costs – A Worthy Investment
Many customers ask, "How much does it cost to hydro jet a sewer line?" or "How much does it cost to hydro jet a drain?". While costs can vary depending on the complexity and size of the job, we believe that hydro jetting is a worthy investment. It offers a comprehensive solution that not only resolves the current issue but also helps prevent future problems, saving you time, hassle, and money in the long run.
Why Should You Choose Anytime Plumbing for Your Hydrojetting Needs in Santa Fe NM?
Clean, functioning drains are key to a healthy plumbing system. For a thorough Hydrojetting service, you need a trusted, experienced team — and that's where we, at Anytime Plumbing, come in.
Community-Centric
We're not just based in Santa Fe, we're part of the fabric of this vibrant community. Our deep local roots and extensive experience enable us to fully understand and cater to your specific Hydrojetting needs, be it tackling stubborn clogs or offering routine maintenance.
24/7 Availability
Drain issues don't work on a 9 to 5 schedule, and neither do we. We're always ready to serve you — day or night. With us, expert help for your drain issues is always just a call away, preventing drain hassles from upsetting your routine.
Prompt, Expert Solutions
We value your time. Our team is dedicated to providing fast, dependable Hydrojetting services, swiftly diagnosing and resolving your plumbing issues to minimize disruption and deliver lasting solutions.
Top-Rated with Transparent Pricing
Our high ratings reflect our unwavering commitment to excellence. We take pride in offering top-tier Hydrojetting services at fair, upfront prices. With Anytime Plumbing, there are no hidden costs — you'll know exactly what you're paying for, and can trust that the job will be done right the first time.
Ready to Bid Farewell to Stubborn Clogs?
We know how frustrating persistent drain blockages can be, disrupting your daily routine and causing unnecessary stress. But remember, you don't have to tackle it alone. Choose Anytime Plumbing for your Hydrojetting needs in Santa Fe, NM.
Our seasoned team doesn't just clear clogs — we go the extra mile by using Hydrojetting to clean and nurture the health of your pipes. Available round-the-clock, we're committed to delivering prompt, trustworthy, and cost-effective services.
Don't let clogs hold you back. Reach out to us now, and let us wash away your worries with the invigorating power of Hydrojetting.
6 Different Reasons You Should Hire Us
Frequently Asked Questions
You Have Questions,
We Have Answers
If you have any plumbing questions, we're here to help—after all, we've been there.
Frequently Asked Questions
You Have Questions,
We Have Answers
If you have any plumbing questions, we're here to help—after all, we've been there.
Well, Hydro jetting is a nifty way to clean your drains. It uses high-pressure water to blitz blockages in your plumbing. Plus, it's super efficient and kind to the environment, so your pipes stay clean and happy.
Hydrojetting is pretty non-intrusive and incredibly effective. It can tackle all sorts of stubborn clogs and build-ups, from tree roots and mineral deposits to heavy sludge. And it does more than just unclog; it cleans your pipes thoroughly, which helps them last longer and work better. Plus, it doesn't use any nasty chemicals, making it a green thumbs-up option.
That depends on your pipes and how much they're used. But if you're a commercial property, we'd say it's a good idea to have a preventive Hydro jetting service at least once a year.
Not to worry, when Hydro jetting is done by pros like us at Anytime Plumbing, it's safe for your pipes. We always check the condition of your pipes first and adjust the water pressure accordingly, so there's no risk of damage.
You bet! We're on call 24/7 for your plumbing needs. Whether you need emergency Hydro jetting or routine maintenance, just give us a call. We're always here for you.