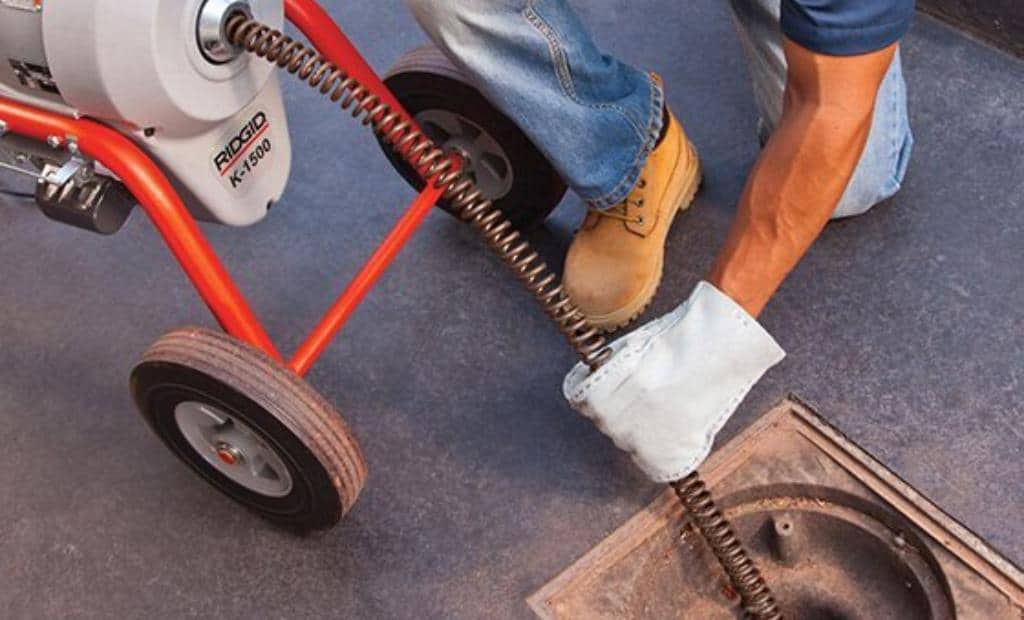 Let's face it - a clogged drain can throw quite the wrench in your day. Sinks start to empty at a snail's pace, mysterious gurgling noises fill your home, and then comes the worst part - the sudden, messy backup. We've all been there, and that's why at Anytime Plumbing, Sewer, Drain & Heating, we're committed to keeping those pesky plumbing issues at bay.
Based in Santa Fe, NM, our team goes all-in to provide you with superior plumbing drain cleaning services. We delve deep into your pipes, fighting off the hairballs, soap scum, and sticky grease that like to call your drains home. Our mission? To ensure that your drains are clear, your pipes are flowing, and your life is as disruption-free as possible.
Think of us as your local, reliable clog busters - ready and waiting to tackle your drain troubles, no matter the hour. With Anytime Plumbing, Sewer, Drain & Heating, you're not just getting a service - you're gaining round-the-clock peace of mind. So, the next time your drains decide to put up a fight, remember, we're just a phone call away and always ready to dive in.
Comprehensive Drain Cleaning Services at Your Disposal
A top-performing plumbing system depends on free-flowing drains. Unfortunately, over time, debris, grime, and various other substances find their way into your drains, creating obstacles that upend your daily rhythm. At Anytime Plumbing, Sewer, Drain & Heating, we don't just specialize in keeping your drains clean in Santa Fe, NM, we provide a suite of services uniquely designed to cater to your specific needs. Be it a stubborn kitchen sink clog or a comprehensive drain clearing for your entire premises, our team is prepared to tackle it all.
Our Sink Drain Cleaner Service
Neglected clogged sinks can escalate into serious issues - water damage, escalating mold growth, and potential health hazards. Our sink drain cleaning service ensures a smooth flow in your sinks, diminishing the likelihood of hefty plumbing repairs.
All-Encompassing Plumbing Drain Cleaning
Our in-depth drain cleaning services extend beyond kitchen sinks. Spanning from your bathroom to your laundry room, we prioritize maintaining the cleanliness of every drain on your property, guaranteeing seamless functionality and instilling peace of mind.
Emergency Drain Cleaning
Stuck with an obstinate clog? Our drain cleaning plumbers stand by, ready to serve at any hour. Equipped with the right tools and expertise, we combat any clog, restoring your plumbing system to its optimal condition promptly.
High-Tech Drain Clearing Service
Occasionally, a drain necessitates more than just a clean - it demands a clearing. Our advanced drain-clearing service employs state-of-the-art equipment to power through stubborn obstructions, leaving you with a pristine, unblocked drain and absolute peace of mind.
Signs Your Drain Needs Professional Cleaning
A well-maintained drain system is integral to a functional home or business. However, it's not always easy to know when your drains require professional attention. Here are some signs that it may be time to call in the experts:
1. Slow Draining: One of the most common signs of a clog is slow drainage. If water is taking longer than usual to drain, it's time to call a professional.
2. Recurring Clogs: If you're frequently dealing with clogs in the same drain, it could be a sign of a more significant blockage. Professional drain cleaning can help solve the issue.
3. Multiple Clogged Drains: If multiple drains in your home or business are clogged, it could indicate a problem with your main line.
4. Foul Odors: Persistent unpleasant smells coming from your drains could mean there is a build-up of waste material.
5. Frequent Use of Over-The-Counter Solutions: If you're frequently using over-the-counter drain cleaners, it's a sign that you need a more comprehensive solution from a professional drain cleaning plumber.
When you spot these signs, remember to act quickly to prevent any further damage. Reach out to our clogged drain service at Anytime Plumbing for swift, efficient solutions.
Are Your Drains Slowing You Down?
Nothing disrupts a smooth-running home or business quite like a clogged drain. It's more than just a minor inconvenience—it can significantly impact your daily routine and even pose a health risk if left untreated. Anytime Plumbing, the leader in plumbing drain cleaning in Santa Fe NM, understands the urgency of these situations.
At your service round the clock, our proficient team is equipped to tackle any and all drain issues. Whether you're grappling with a slow-moving sink or you need an extensive drain-clearing operation, we're devoted to getting your plumbing back to normal as fast as possible. With our transparent pricing, you'll receive top-quality service without any surprise costs.
Don't let a blocked drain steal your time and peace. Reach out to Anytime Plumbing, Sewer, Drain & Heating - your local specialists in rapid and efficient drain cleaning services. We're always just a phone call away, eager to return your day to its usual pace!
Why Should You Choose Anytime Plumbing for Your Plumbing Drain Cleaning in Santa Fe NM?
Here's the thing - keeping your drains in tip-top shape is super important for a healthy and efficient plumbing system. Now, when you're dealing with a task as big as plumbing drain cleaning in Santa Fe, NM, you definitely want a team that's got your back and knows their stuff. That's where we come in - Anytime Plumbing, Sewer, Drain & Heating.
We're Your Neighbors
We aren't just another business around the corner in Santa Fe - we're a part of the heartbeat of this amazing community. We're just like you - we know the ups, downs, and everything in between when it comes to drain cleaning needs. Whether it's a backed-up sink or a bigger drain clearing task, we're here, ready to roll up our sleeves and help.
We've Got Your Back 24/7
We get it - drain problems have a knack for showing up uninvited and at the worst possible times. That's why we're here for you 24/7. No matter the time of day or night, just give us a ring and we'll be there to fix your drain issues.
Fast and Reliable, Just the Way You Like It
We know your time is precious, and waiting around for a drain fix isn't really how you want to spend your day. That's why our crew of skilled drain-cleaning plumbers are all about speedy, reliable service. We focus on finding and fixing your plumbing problems fast, so you can get back to your routine ASAP.
Top Rated and Clear on Pricing
Our customers love us, and it's all thanks to our dedication to top-notch service. We're upfront about pricing too, so you know you're getting quality plumbing drain cleaning services at a fair rate - no hidden surprises here. Whether it's a quick clog fix or a complete drain clearing job, you can trust Anytime Plumbing, Sewer, Drain & Heating to do it right, the first time.
6 Different Reasons You Should Hire Us
Frequently Asked Questions
You Have Questions,
We Have Answers
If you have any plumbing questions, we're here to help—after all, we've been there.
Frequently Asked Questions
You Have Questions,
We Have Answers
If you have any plumbing questions, we're here to help—after all, we've been there.
The frequency of drain cleaning can depend on the usage and condition of your drains. As a rule of thumb, it's advisable to get your drains professionally cleaned every two years. However, if you notice frequent clogs, slow drainage, or bad odors, it's best to schedule a cleaning immediately.
While there are DIY methods for minor clogs, stubborn or recurring blockages may require professional help. Over-the-counter drain cleaners can sometimes do more harm than good, damaging pipes and posing a health hazard. For reliable and safe drain cleaning, it's always best to call a professional.
Yes, at Anytime Plumbing, we offer emergency plumbing drain cleaning services in Santa Fe NM. Our team is available around the clock to help with any urgent plumbing issues.
Our comprehensive drain-clearing service includes identifying the root cause of the blockage, clearing it, and providing advice to prevent future clogs. We use state-of-the-art equipment and safe, effective methods to ensure your drains are cleared and functioning efficiently.
The cost of our drain cleaning service can vary based on the complexity of the blockage and the specific services required. We pride ourselves on transparent pricing and will provide you with a detailed quote before any work is done.