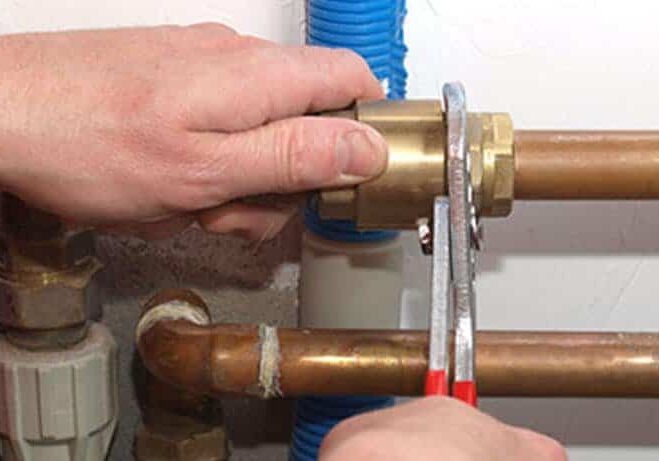 Cracked, clogged, or damaged sewer lines? Those could turn your peaceful home into a hotbed of plumbing issues, spurring everything from sewage backups to water damage. In times past, getting these issues fixed was a daunting ordeal. It meant your backyard turned into an excavation site, your daily life was disrupted, and worst of all, it was a hit on your wallet. But thanks to advancements in technology, we now have a better, quicker, and more cost-effective solution - sewer pipelining!
With Anytime Plumbing, Sewer, Drain & Heating, you're choosing local Santa Fe experts who are pioneering the future of sewer repairs with advanced sewer pipelining services. Our mission? To seamlessly rejuvenate your tired, damaged sewer lines without wreaking havoc on your property or your peace. So, let's bid farewell to the chaos of prolonged disruptions and instead, embrace a smooth, efficient sewer system that supports the flawless operation of your home.
Sewer pipelining is a trenchless method that involves inserting a pipe liner into the existing sewer line. This liner hardens to form a new, seamless 'pipe within a pipe.' This technique saves you from the mess, cost, and inconvenience of traditional sewer pipe replacement. Here's why this innovative technique is a game-changer:
Preserving Your Beautiful Landscape: Our sewer pipelining technique negates the need for disruptive excavation work. Your yard stays intact, your prized landscaping untouched. No mounds of dirt, no unsightly trenches, just a smooth, uneventful repair process.
Economic Efficiency: Not only does sewer pipelining bypass the need for substantial excavation, but it also does away with restoration costs associated with traditional sewer pipe replacement. No need for re-paving driveways or re-sodding your lawn. It's a financial win.
Swift and Seamless Service: Sewer pipelining is a rapid solution, getting your sewer system back to optimal function swiftly, with minimum interruption to your daily routine. Say goodbye to days or weeks of work and hello to efficient and effective service.
Built for the Long Haul: Our pipelining method introduces a new inner lining to your existing pipe that's impressively resilient. It's built to withstand cracks, leaks, and resist invasive roots, ensuring you a seamless sewer service for many years to come.
One Size Fits All: The beauty of sewer pipelining is its adaptability. It works with a multitude of pipe types—cast iron, PVC, clay—you name it. This makes it a versatile solution catering to varied homes and plumbing setups.
Why Choose Anytime Plumbing for Sewer Pipelining in Santa Fe?
When your sewer lines run into trouble, there's no need to let stress seep into your life. At Anytime Plumbing, Sewer, Drain & Heating, we're here to streamline your sewer woes with our top-tier pipelining services. We bring to you the finest blend of deep expertise, industry-leading technology, and a customer-centric approach. Here's what makes us stand out in the Santa Fe community:
Experienced Pipelining Veterans
Our squad isn't merely trained in the latest sewer pipelining techniques. They're seasoned veterans who've tackled a broad range of sewer challenges. Count on us for precision, thoroughness, and an unyielding commitment to problem-solving.
Innovation at Its Best
We arm our experienced team with cutting-edge technology and superior materials. This powerful combination ensures that we can provide you with reliable, long-lasting solutions that keep your sewer system running flawlessly for the long haul.
Your Satisfaction, Our Triumph
At Anytime Plumbing, we don't just service your sewer lines—we serve you. We're committed to providing clear, responsive communication and top-notch service at every turn. Your concerns are our mission— we're here to ensure they're effectively addressed.
Fair and Transparent Pricing
With us, what you see is what you get. Our pricing structure is clear, upfront, and free from hidden surprises. We're committed to providing superior sewer pipelining services that deliver unbeatable value for your investment.
Solve Your Sewer Issues Today with Our Top-Tier Sewer Pipelining Services
Are lingering sewer issues disrupting your peace? Don't let them amplify into major problems. With Anytime Plumbing, Sewer, Drain & Heating, we offer fast, effective, and non-intrusive solutions to your sewer issues.
Embrace our premier sewer pipelining services, specifically designed to protect your landscape and your wallet. With a team armed with the latest technology and committed to your satisfaction, we're not just restoring your sewer system — we're bringing back your home's harmony.
Contact Anytime Plumbing, Sewer, Drain & Heating today, and let's give your pipes a new lease on life!
6 Different Reasons You Should Hire Us
Frequently Asked Questions
You Have Questions,
We Have Answers
If you have any plumbing questions, we're here to help—after all, we've been there.
Frequently Asked Questions
You Have Questions,
We Have Answers
If you have any plumbing questions, we're here to help—after all, we've been there.
Sewer pipelining is a non-invasive method of repairing damaged sewer lines. It involves inserting a flexible, resin-saturated liner into the existing pipe. Once in place, the liner is inflated and left to cure, effectively creating a "pipe within a pipe."
The length of the pipelining process can vary depending on the severity and extent of the pipe damage. However, most residential sewer pipelining projects can be completed within one to two days.
One of the biggest advantages of sewer pipelining is that it's a trenchless method. This means we won't need to dig up your yard or driveway to access the damaged pipe, resulting in minimal disruption to your property.
The pipe liner used in sewer pipelining is extremely durable. It is designed to resist corrosion, tree root invasion, and wear and tear, providing you with a long-lasting solution. When properly maintained, the new pipe liner can last for several decades.
The cost of sewer pipelining can vary based on the size, length, and condition of the existing pipes, as well as the complexity of the installation. We're happy to provide a detailed quote after inspecting your specific situation.