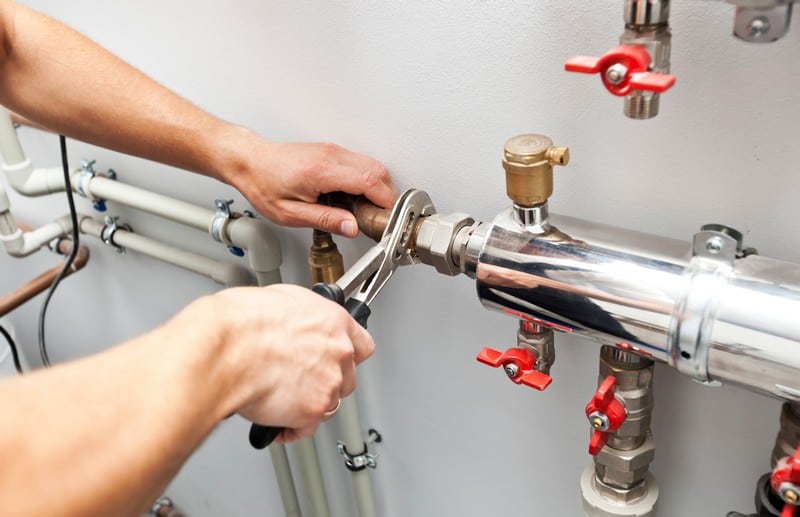 Running a commercial property? It's a constant juggling act, isn't it? Among the many balls you have to keep in the air, one of the most crucial is maintaining your plumbing system. A minor hiccup could lead to significant disruptions in your operations, causing inconvenience, lost time, and possibly even property damage. And that's the last thing you want on your plate, right?
What you need is a dependable partner to keep your plumbing concerns in check – one who's capable, reliable, and understands the unique requirements of commercial properties. You need comprehensive Commercial Plumbing Services that keep everything running smoothly, so you can focus on the bigger picture - managing your business effectively.
That's exactly what Anytime Plumbing, Sewer, Drain & Heating provides. Catering to a broad spectrum of businesses – from busy hotels and bustling restaurants to high-traffic office buildings and retail stores – we understand and adapt to your specific plumbing needs.
As a trusted commercial plumbing contractor in Santa Fe, we value your time and trust. Quick to respond, unyielding on quality, and always prepared to tackle your plumbing challenges, we're not just a service provider. We're a steadfast ally in your corner. Be it a regular maintenance task, a complex installation, or an emergency repair, we're always just a call away – ready and equipped to ensure your business operations continue to flow seamlessly.
Our Commercial Plumbing Services You Can Rely On
At Anytime Plumbing, we understand that every business has unique needs. Our commercial plumbing services are designed to support businesses in a wide range of industries. Whether you operate a bustling restaurant, manage an office complex, or run a retail store, we've got your plumbing needs covered. Here's a more detailed look at our key commercial plumbing services:
Backflow Prevention
Is your business protected from the risk of backflow? Backflow can contaminate your water supply, posing serious health risks for your employees and customers. We offer expert backflow prevention services to ensure your water remains clean and safe. Our trained professionals install and service backflow prevention devices, helping you meet local regulations and giving you peace of mind.
Grease Trap Pumping
Ever experienced the nasty surprise of a blocked grease trap? Blocked grease traps can lead to unpleasant odors, back-ups, and even costly fines. Regular grease trap pumping is essential for restaurants and other food service businesses. Our experts can perform routine cleaning, ensuring your grease traps function properly, preventing clogs, and keeping your business running smoothly.
Commercial Drain Cleaning
Drains and pipes in commercial properties are under constant stress due to high usage. Our team is equipped with advanced tools and techniques to tackle everything from minor drain clogs to severe blockages. We ensure your drains are clean and clear, preventing potential disruptions to your business.
Commercial Sewer Line Services
Sewer line issues can cause significant problems for businesses. We provide comprehensive sewer line services, from regular maintenance and inspections to emergency repairs. Our aim is to ensure your sewer lines are in excellent condition, minimizing any risk of damage or disruption to your operations.
Commercial Water Heater Services
Many businesses rely heavily on their water heaters. Whether you run a restaurant that needs hot water for cleaning and cooking or a hotel that needs to provide hot showers for guests, we have you covered. We offer installation, repair, and maintenance services for commercial water heaters, ensuring a reliable supply of hot water when you need it most.
Commercial Plumbing Inspections
Preventive maintenance is crucial in a commercial setting. Our routine plumbing inspections can identify potential issues before they escalate into major problems, saving you from expensive repairs and unnecessary downtime. We meticulously examine your system and provide practical solutions to keep your plumbing in top condition.
Commercial Leak Detection and Repair
Water leaks can lead to substantial damage and higher utility bills. Our advanced leak detection service allows us to pinpoint the exact location of a leak, minimizing damage to your property. Once identified, we work quickly to repair the leak, preventing further damage and conserving water.
Commercial Plumbing Installation and Upgrades
Installing or upgrading a plumbing system in a commercial property requires a specialized approach. Whether you're renovating an existing building or constructing a new one, we provide tailored installation and upgrade services. We work closely with you to understand your specific requirements, ensuring your new plumbing system meets all of your needs.
Emergency Commercial Plumbing Services
We understand that plumbing emergencies don't adhere to regular business hours. That's why we offer 24/7 plumbing emergency services, ensuring a swift response and quick resolution to your urgent plumbing issues.
Signs That Your Commercial Plumbing Needs a Professional's Attention
It's easy to take a functioning plumbing system for granted, until suddenly, it isn't working as it should. Here are some signs that your commercial plumbing might need professional attention:
1. Slow Drains: A slow drain might seem like a small nuisance, but it can signal more serious problems like blockages or sewer line issues.
2. Unusual Noises: Hearing gurgling sounds or other unusual noises from your pipes or drains? It's likely time to call in the pros.
3. Constant Dripping: Not only can a constantly dripping faucet increase your water bill, but it can also indicate a larger issue with your plumbing system.
4. Low Water Pressure: Sudden drops in water pressure can be caused by various plumbing problems, including pipe leaks or blockages.
5. Foul Odors: Persistent unpleasant odors can be a sign of sewer or drain issues and should be addressed immediately.
Don't wait until small issues become big headaches. If you're experiencing any of these signs, reach out to our team of commercial plumbers. We're here to keep your plumbing system—and your business—running smoothly.
Why Choose Anytime Plumbing for Your Commercial Plumbing Services?
Keeping your business running smoothly involves many moving parts, and a reliable plumbing system is a vital part of that. When it comes to delivering top-notch commercial plumbing services, the expertise of a seasoned commercial plumber is indispensable. This is where Anytime Plumbing, Sewer, Drain & Heating steps in.
Your Local Commercial Plumbing Experts
We're not just commercial plumbers; we're your neighbors. Our roots in Santa Fe and years of serving this vibrant community have honed our understanding of the unique plumbing challenges local businesses face. With a keen grasp of your specific needs, we're equipped to offer tailor-made commercial plumbing solutions.
Always Available Commercial Plumbers
Commercial plumbing emergencies don't operate on a 9-to-5 schedule, and neither do we. We understand that a plumbing issue can disrupt your operations, so our team is ready to serve you around the clock. No matter the time of day or night, expert commercial plumbing assistance is just a phone call away.
Efficient, Expert Commercial Plumbing Solutions
In business, time is money. We get it. That's why our team is committed to delivering swift, efficient commercial plumbing services. Our goal is to identify and address your plumbing concerns quickly, reducing downtime and allowing you to focus on what you do best—running your business.
Highly Rated Commercial Plumbing Contractor with Transparent Pricing
We've built our reputation as a top-rated commercial plumbing contractor by consistently delivering excellent services. We offer high-quality commercial plumbing solutions at fair, upfront prices. With Anytime Plumbing, you can trust that your commercial plumbing needs will be met with the utmost professionalism and no hidden costs.
Turn to us for all your commercial plumbing services and discover why businesses throughout Santa Fe trust us as their go-to commercial plumber.
Is Your Business Suffering From Commercial Plumbing Issues?
A commercial plumbing issue is more than just a nuisance; it's a potential business interruption, damaging not only your operations but also your reputation. At Anytime Plumbing, Sewer, Drain & Heating, we understand the dire implications of a faulty plumbing system for a business, and we're committed to minimizing that impact.
When you partner with us, you're choosing a team of experienced commercial plumbers dedicated to keeping your business flowing smoothly. We'll swiftly diagnose and resolve your plumbing issues, from the smallest leaks to the most complex system installations, ensuring minimal disruption to your daily operations.
More importantly, with our transparent pricing and prompt services, you won't have to worry about unexpected charges or delays. You can focus on what really matters - running your business efficiently.
Don't let a plumbing problem hold your business back. Reach out to us today at Anytime Plumbing, Sewer, Drain & Heating to schedule commercial plumbing service.
6 Different Reasons You Should Hire Us
Frequently Asked Questions
Plumbing Questions?
Consider Them Answered!
Have a plumbing question that's got you scratching your head? Don't worry! We're seasoned in all things plumbing and we're ready to share our insights with you.
Frequently Asked Questions
Plumbing Questions?
Consider Them Answered!
Have a plumbing question that's got you scratching your head? Don't worry! We're seasoned in all things plumbing and we're ready to share our insights with you.
We cater to a wide range of businesses, including restaurants, retail stores, office buildings, educational institutions, and more. Whether it's a small enterprise or a large commercial property, our commercial plumbers are equipped to handle all plumbing needs.
Absolutely! We understand that plumbing emergencies can happen anytime and can significantly disrupt your business operations. Our team is available 24/7 to provide prompt and efficient emergency plumbing services.
A backflow prevention system is a device installed onto your plumbing system to protect your water supply from contamination or pollution due to backflow. Regular inspection and maintenance of this system are critical to ensuring the safety and cleanliness of your water.
Grease trap pumping is essential for businesses like restaurants where a significant amount of grease and solids enter the drainage system. Regular pumping helps prevent blockages and malodorous conditions, ensuring your system functions effectively and complies with health and safety standards.
The frequency of inspections can depend on the size and nature of your business. However, as a general rule, we recommend an annual inspection to catch any potential issues early, preventing costly repairs down the line.
Scheduling a service with us is easy. You can reach out to us via our contact us at (505) 209-7239. Our team is ready and eager to assist with your commercial plumbing needs.